In the hustle and bustle of working life, the employee performance appraisal offers a chance for managers and their employees to take time for one-on-one discussions of issues that might not otherwise be addressed. When conducted properly, they offer a valuable opportunity to discuss work activities and goals, correct existing problems and encourage positive performance.
The annual performance evaluation is a critical moment in the performance management cycle. However, appraisal data leaves decisions open to acrimonious debate, and any data deficiencies can make the performance management process inadequate as a whole. Explore a few of the ways annual performance appraisal data is problematic, and how managers can ensure accurate and effective performance appraisals.
Inaccurate Data Affects the Manager/Employee Relationship
The biggest driver a manager has in shaping day-to-day performance is having a strong rapport with their employees—but providing an employee a poor rating threatens that relationship.
In 2016, the U.S. Government Accountability Office (GAO) found that supervisors rate employees below "fully successful" about 0.5 percent of the time and rate above "fully successful" 73 percent of the time. These unlikely ratings are problematic as the annual performance review does not do a good job of distinguishing between employees. The current federal evaluation systems and distribution of ratings is extremely skewed, which makes it difficult to address federal employee performance issues.
Nevertheless, transparency and credibility in the performance management process are enhanced when meaningful performance distinctions are made. This helps ensure that promotions, bonuses and other rewards and recognition are based on employees' performance and results.
>>> Download the Best Practices in Performance Management eBook to help guide your federal HR strategy.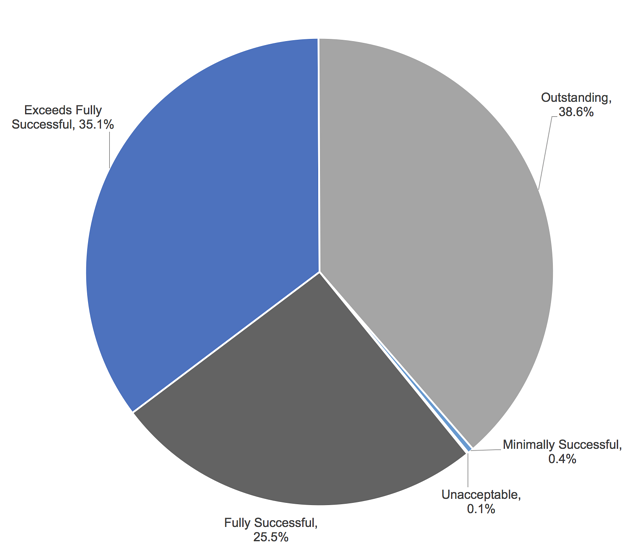 Source: GAO analysis of Enterprise Human Resources Integration (EHRI) data, rating period ending calendar year 2013. | GAO-16-520R
Office Politics Influence Performance Data  
The annual performance review is a predictable part of agency life. An employee will ultimately be assigned a rating based on performance—federal regulations establish eight performance evaluation patterns that can be used by agencies to rate employees—and it is critical that managers accurately assess an employee's performance. Merely one data point can have profound consequences, as it is used to determine bonus, demotions and more.
Unfortunately, an accurate assessment is difficult when you consider that managers give ratings in a highly-politicized environment. Varying and unfair performance standards and ratings can arise under a fragmented or poorly implemented performance management program and can lead to detrimental organizational outcomes.
Performance Rating Standards Don't Align with Other Jobs
The annual performance review also looks back over the performance period, highlighting the successes and shortcomings of the employee's performance. It doesn't always consider how performance will need to change according to future requirements of the job. For instance, if the employee receives a promotion, then the position requirements will change and so will the criteria for success. The actions that made someone successful in their current job may be detrimental if put into a supervisory role. In short, performance management is not helpful for informing decisions related to employee development and succession planning. (Stay tuned for our next blog on how to reconcile this problem.)
Recommendations for Federal Performance Appraisal
While current federal performance management systems do not lend themselves well to improving skills sets, agencies cannot give up on assessing employees' accomplishments fairly and accurately. Start by developing objective performance standards in collaboration with the employees. Throughout the year, supervisors need to be courageous by monitoring performance and delivering a steady stream of constructive feedback. Performance problems should be addressed early and often.
Provide tangible rewards to large contributors. Monetary rewards are an obvious option, but agencies can be creative as well. Offer additional paid-time-off or coveted work assignments to high performers. If the performance standards are objective and transparent, and supervisors are giving feedback, the employees who were not handsomely rewarded will likely accept the outcome.
Current federal performance management systems need reform. We recommend focusing the process on reviewing last year's accomplishments and short-comings and using appropriate carrots and sticks; however, it's important to try to avoid critiquing personal attributes during the appraisal review. Commingling personal skills assessment and performance appraisals is an easy trap to fall in, but separating the two is key for success. We'll visit this challenge more in our next post, The Annual Performance Review VS the Competency Assessment.
This article was originally published as part of the GovLoop Featured Blogger program.